Havana Moon
Yesterday my mom yelled at me about posting the review. I tried telling her posting something was better than nothing and since I had a busy day ahead, it was the best I could do. She said that was a copout. In my very best MAD TV, Stuart voice, I told her it was my "Look what I can do!" post.
Today I am going to spit out a bunch of random nonsense that is hogging my desktop. I have a habit of taking notes and just saving them there. Currently, there are too many to count. Virtual housekeeping is essential. I certainly would hate for Carlos Santana to come over and fuck up my shit. So today I present to you some stuff.
(BTW Mom, Havana Moon is a Carlos Santana song. I wish I had a bottle of rum to wash this post down with.)
---
I couldn't find the news story online but a couple years ago, there was a man who was caught "putting a body in his trunk" by neighbors, who called 911.
Eric
wanted me to share this story with you guys after I shared it with him. He recently filtered a 911 call about a woman putting a body in her trunk. It turned out to be two consenting adults playing a bondage game. So you can imagine the embarrassment they must have felt, not to mention the mood kill when police arrived on their little sex scene.
Similar to Eric's story, some neighbors reported a murder, others a kidnapping. When the police arrived, guns drawn, they opened the trunk to find a (not safe for work)
Real Doll
.
It seems they now make a much more lifelike blowup doll and the guy was simply taking his to a nearby hotel for a little quality time. His nosy neighbors foiled his plans and likely, killed his mood.
---
Since I know many of you are into horoscopes and such, I saved this gem for you. Have you seen
this
?
The site claims that there is a link between your blood type and personality. Here is the key:
Type O – The Warrior

trendsetter loyal passionate self-confident independent ambitious vain jealous
Type A – The Farmer
calm patient sensitive responsible overcautious stubborn unable to relax
Type B – The Hunter

individualist dislike custom strong optimistic creative flexible wild unpredictable
Type AB – The Humanist

cool controlled rational sociable popular critical sometimes standoffish indecisive
If you don't know your blood type, go donate, they'll tell you what you are. Did yours sound like you? Which type do you think I am?
---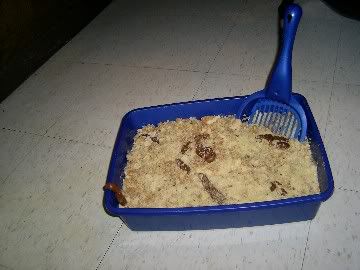 The day before Lane 2's birthday, I spoke with her teacher. My nasty child really wanted to bring the kitty litter cake to school. I warned her teacher how realistic it looks and was amazed she said it was okay. Of course if she hadn't, a nasty toenail clipping may have found its way to school for show-and-tell.
Lane 2's classmates loved the cake and fought over who was going to get the poop-looking Tootsie Rolls. She was also excited that there was plenty of cake to offer all of the teachers. Amazingly enough, none of them turned down a piece of the nasty looking thing.
She came home from school on a cloud. That was until I told her to go in her room and do her homework. She whined about it being her birthday and how mean her teachers were for assigning homework. She also thought I was being mean making her do her homework right away.
I told her I had a surprise for her. I said I wanted her homework done first so she can spend the rest of the night having birthday fun. She finally agreed.
When her homework was finished, I led her out of her room, with my hand over her eyes. I sat her down in her computer chair and turned her toward her gift (the newly fixed computer and Sponge Bob games.) When I took my hand away from her eyes, she beamed. It was a huge hit.
She read her birthday post here at Home Fires, and giggled through the bad words. After she read all of your comments she said, "Can I leave a comment too? I'd like to thank them for their patronage." She was so serious. I can't tell you how much that cracked me up.