The Boys Are Back In Town
Dear family, I demand a recount. It appears some unregistered voters partook in the election at the bottom of yesterday's post. Those party crashers were... you, my family members, Anita, Mom and Yoda. More accomplices may have been involved, however, the criminal background of you three is longer than Santa's naughty and nice lists combined.

This one goes into the remarkable moments book. My mother actually commented on my blog. Seems she also voted for number 10, Barbie Head Lois. Oh, no, not just for herself. It seems that Mom, AKA Sybil, has also put in the requests of others.

Mother, you can barely get your dog Ginger to shit outside. So what are the chances that she has learned to type her own comment? I'm on to you, and your little dog too.

Yoda, my precious nephew. Born when I was merely 11-years-old, you are more like a brother to me, only no one ever let me beat you up. You spoiled little shit! Single, 22, blonde hair brown eyes, 6ish feet tall, 175ish pounds, never been married, no children, guitar player, funny, loving and kind... really, I doubt you need anyone pimping you out. But, ladies, if you are interested, he is up for grabs. Only rule, I do NOT want any details. Thankyouverymuch.

This is like a radio contest people, your votes don't count. Besides, everyone, whose vote really counted, wanted to hear about Katey and the hot men. I mean, really, who can compete with that? I know you are only voting for me so I'll be forced to show you my new look. But that can wait. Maybe I'll see you guys this weekend? Someone, hurry up and plan a gathering before I lose that lovin' feeling.
---
Okay, so on with today's post.
Katey
and I had a date last week. I planned to make two posts about our date. I've decided instead, to try my best to combine the two groups of men and make a Katey, blog and man sandwich, of sorts.
I invited her to be my date to welcome home our local soldiers. These GI Joes are good buddies of mine. The newsroom where I worked for years, was located next to the Armory. As the September 11th attacks were being carried out, I was in the Armory interviewing the guys, under the assumption they would soon be headed into war.
I had interviewed some of the guys before for various stories, from recruitment, to achievements. I volunteer for the Toys for Tots program, as do many of the soldiers. The inevitable came and the war was on. I was back for more interviews. Cried right beside them as we all said our goodbyes. Three soldier friends remain on active duty. All others returned from their various posts safe and sound.
A homecoming party was planned and I was invited. This time as a friend, not a member of the media. The invitation said, "Lois Lane and Guest." I called the Armory and asked if that guest, my date, could be a girl. You know, the don't ask don't tell policy. My friend laughed, said he had a visual and said he would prefer my date be a woman.
I called Katey and asked her to be my date. She said yes.
I wanted to show my date off to my other boys too. Yes, I have many men in my life. As an honorary member of the fire department, I thought the guys would want to know that I was on a date with a girl, plus, who doesn't like to checkout
hot
guys? Because we were ready with plenty of time to spare, I asked Katey if she would like to meet my comrades at the firehouse before we headed to the party. She lit up like a four-alarm fire.
Katey was given a tour of all the new facilities including the dorms, weight room, classroom, kitchen and the fire pole. She began dancing on it but I told her that wasn't really what it's for. She can be so silly sometimes.
The alarms sounded. They had a call. Most of them had to leave. Two guys had to stay back to man the station.
I started talking shop with one of the guys. He has dodged the bullet for every blood drive I've had at the station. "Sorry Lois. Just got my nipples pierced," was the last response I received from him. So I asked if he recently had anything tattooed or pierced. He lifted his shirt proudly displaying his nipple rings. He had Katey's undivided attention. I reminded him that was his excuse the last time and he motioned toward his pants. Katey's eyeballs were like two flying saucers. I swear she thought he was going to whip out some crazy penis ring right there.
We laughed and he said, "No way! That would be much too painful. Count me in for the next one."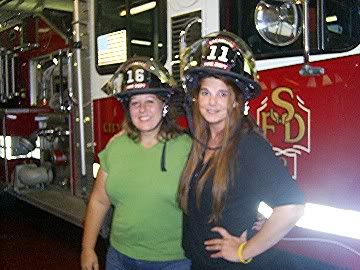 He took us to the engine room, fitted us with helmets and took our picture. He may be good at shooting water but he isn't so hot shooting with a camera. Here's Katey and I in all of our blurry goodness.
It was nearing party time so we said goodbye, and we were off like two prom dresses.
A short ride over to the party and poof, more men. Lots of very good looking GI Joes. Hugs all around, introductions to Katey were made and then we went right to the chow line. We ate some very dry pork and chicken. I shared my dessert with Katey.
I'll leave that part to your imaginations.
We had plenty of eye candy entertainment with our meal. So much in fact, we became hungrier. Once dinner was done and the bar was wide open, everyone loosened up. Some danced, sang, formed a Conga line and others shared stories about their time away and their own personal homecomings.
They bought each other round after round. Katey and I were smack dab in the middle of it all. I don't think either one of us were allowed to take money out of our purses. I wasn't quick enough with my camera to catch Katey slamming one back. Here she is with GI Joe (who she calls Willie) and Clayton.

Let me say right here and now what a good friend Katey has become. Not only did she agree to be my date, she also took every single shot for me. I've got that allergy to booze thing, or so I said. I'm just not a big drinker, plus I was driving and that's a major no-no in my book. So my girl, took many a shot in the mouth for me. (pun intended)
She began calling my buddy GI Joe, Willie because he played a nasty little trick on her.
"Katey, I know one word that I can say that will make you say yes to a shot of tequila."
Gullible, sweet as can be, Katey said, "One word, huh? What one word might that be?"
He leaned in, as if to tell her this big secret and gave her a big ol' slimy wet willie. The look on her face was priceless. I was laughing much too hard to be able to take her picture as she frantically wiped his slobber from her ear. Katey had officially been welcomed by my friends and soon took the shot of tequila like a champ.
She is as much a people watcher as I am. There were a couple of moments that something caught my eye and I found myself looking at Katey as if to say, "Did you see that?" Every time, she had the same look. Katey and I have never talked about our mutual annoyance of an overused non-word but once we heard a woman say it, we made fast eye contact with each other, lipped "irregardless" and laughed our asses off.
There was this lady, Mavis, who is a member of the VFW. Her husband is a veteran. The two are very active in their participation with this unit. Together, they really do a lot of great things. There's this one little tiny problem though. Mavis never wears a bra, and from what Katey and I heard that night, she rarely wears any under clothing.
Mavis was wearing a thin, light colored tank top. Every time she bent over, it was like watching two flapjacks flip out of a skillet. Could I take my eyes off of her? No. Much like a gory train wreck, I was captivated, as was just about everyone else. I think GI Joe may have thrown up in his mouth a little when he caught a glimpse. That was about the time that Mavis stories started flying. Many of the guys were happy to tell about the first time they saw Mavis in a miniskirt or a tight fitting dress. I'll spare you those details.
When the guy in charge, the commander, the leader of the pack, continually boasted about his role and rule over each and every one of the others came near, Katey and I cringed simultaneously. He's a good guy, don't get me wrong. He does have this little spittle problem, however. Okay, it's not a little problem. It's huge. He's the kind of guy that if we grew up together, I would have yelled in his face everyday, "Say it don't spray it!"
He is one of those power trippy types. He stands much too close when he is speaking to you. Nose-to-nose, military style as his spittle pours down. Pretty gross huh? And the poor old dude does not take a hint. When I clearly was wiping his spit from my cheek, he continued talking. I even tried a little intervention by letting my own spit fly, just to show him what it's like. "Oooops, I spit on you. Sorry."
"Oh, that's okay. That happens. So as I was saying. I am in charge of every one and everything and one day I'll be god!"
Did I mention he has an absurd amount of moles on his head face and neck area? Thankfully, I don't know if he has them elsewhere on his body. Katey? (She knows I'm just playin'. Friends don't let friends fuck ugly spittle dudes.)
Katey took the night and the guys in stride. She fit right in, as she always does. They treated her like they've known her forever too. I think she had a pretty good time, despite her cold. The hard liquor shots may have helped with her symptoms too.
GI Joe walked us to my car, hugged us goodbye and we headed back to the Lane Estate. And wouldn't cha know it, we were home by midnight and before my car turned into a pumpkin.
Katey also wrote about our date. You can read about it
here
.
Barbie Head Lois is up for tomorrow's post. If you would really rather read one of the other choices, today is the last day to make your vote count.