When You Say He's Just A Friend
I cleaned up my Blogroll over the weekend. I used to have close to 100 people linked here but after taking out all of the inactive blogs, there are only about 75 left.
It's funny but I felt like I was giving up on certain people to return to the Land of Blog. Stupid, I know. It's just that a couple of them are people who I have "known" for a couple of years, via the internet. One of them is the very same person who dragged me into this blogging mess in the first place.
If you see you aren't over there on the roll and you want to be, and you intend to update at least once per month, let me know and I will add you.
That brings me to Lady Wyn's question in the ask Lois segment. She wants to know how I keep track of so many blogs and so many people's lives. Funny, but it's not through my Blogroll.
When I began blogging last year, I had a few friends who were bloggers. I started reading them, then clicked their links. Soon I was leaving comments all over the place and people were returning the visit.
I love reading about people and their lives. I like to think that sometimes in comments I can offer encouragement to those who are going through a rough spot, or a laugh to someone who needs to be cheered up.
As time went on, I just remembered certain details about each and every person, like I would with my real live friends. I mean face it, us blogger folk share more with our virtual friends than we do with people we see on a daily basis.
Sure there were a couple of times I confused one person for another. For instance, at one point there were four forms of Mike hanging around. Now we are down to three and there is no confusing them. Jona, Jay Are, Jude and Justine came on scene all at the same time and again, I was a little mixed up. I got them straight now. Of course we have Bill and William who sometimes both sign Bill but now I "know" them both so well, I can tell them apart just by what their comments say.
As my own Blogroll grew, I found it difficult to keep up. Sometimes on weekends I would backtrack and read all I'd missed in certain people's lives. After a year of trying to catch up, I've gone into a new method of reading blogs.
I start with my own post from the day before. First commenter is the first person I read. I am anal retentive and go in order. If I have time throughout the day, I'll go to my comments from the day before or a couple of days before that and click on any I haven't read. When someone whom I haven't "heard" from in a while, pops into my mind, I dig for their link. On the rare occasion that there is more time, I'll click on the roll.
I try to comment on every blog I read, just so they know I am still around, but lately, even that has proven difficult. An hour out of everyday that I am reading, I'm also riding the LO Racer 2006. Two birds with one stone theory. But it's too hard to comment while pedaling. Time. Just need more time. I guess what I'm trying to say, Wyn is that I am addicted to reading and try to treat each blogger like any regular friend.
---
Now for the most messed up comment I have ever received. No, it didn't happen here. Over on my
Frappr
(map of all of your friends with a photo and all the spam your inbox can take) a fellow left the following comment.
"IM JIMMY IN DECATUR ILL,, SO I HAD TO SAY HI, OF COURSE TO YOU GUYS,, AND I WONDERED WHATS YOUR TYPES OF DIAPERS THAT YOUR HUBBY WEARS,, IM IN THE ATTENDS MEDIUMS. NEVER KNEW THAT OTHERS IN DIAPEES WERE SO CLOSE TO ME,,, IN ILL. HOPE YOU BOTH WRITE ME BACK,, I NEED KNEW FREINDS IN LIFE AGE 47"
I could let it be, have that comment speak for itself... but, holy mother of Diaper Land. What did this guy read here or on my
Frappr
that could have possibly given him the impression that Mr. Lane and/or I, are adults who get off on wearing diapers?! If you can find the words that caused this freak confusion, please tell me so I can DELETE them immediately if not sooner.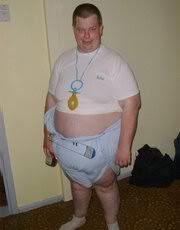 This is what I imagine the freak looking like. Ewww, I just threw up a little in my mouth.
You folks have a groovy day, and may all of your diapers stay dry.