Sacrament Of Penance
As I gear up for clown college, I'm trying like hell to get a lot of work done. I want to be able to focus at school and not have a bunch of work crap on my mind.


Bless me Bloggers, for I have sinned, it has been two weeks since my last confession, I mean since my last blog surf, and these are my sins. I popped in and didn't comment on many occasions. I started writing blog posts and never finished. I started writing comments and again, never finished. I've wanted to be active in the blogging community but internet porn keeps sidetracking me. Okay, that last one was a lie to see if you are really paying attention to this sacrament of penance.


For these and all the sins of my past I am truly sorry. However, these sins are likely to continue as I try to focus on the kids being home, work, this housework crap and my edjumication.


To be honest, I can't wait until I start school. I'm going to Second City in Chicago, which some of you may have read, as it was leaked to the Janet Press. I can't tell you how giddy I am to be in the same building where so many great comedians and actors have been, while learning just as they had.


I hope to be able to fine tune my writing and learn to make everything funny. Having the name Second City sitting on my resume might make me look a little more attractive to those nay-saying agents.


I don't just want to get my book published, I want a comedy writing job too. And a gardener, a cabana boy and a couple of male housekeepers. I really don't think I'm asking for too much.


---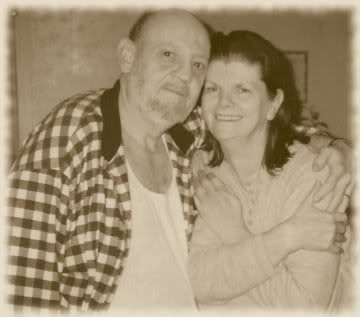 Today is my parent's anniversary. The picture above is one of my favorites of them.


While Dad was sick, he spent a lot of time back in church. During his first visit he said, "I told Father Flannigan to put me down for everything, except hurting people, in my sacrament of penance. It just seemed easier than trying to remember and rattle everything off."


Mom's been a little sad lately. But look at their faces, body language and you'll see the oozing love they shared. Course, if Mom didn't have her arms folded across her chest, we would likely see her boobs oozing because she was letting the old gals hang free that day.


Growing up with that kind of love was a real blessing.