Prosthetic Head
The weekend has turned into a pretty good one. All of my whining the other day must have paid off. The fundraiser is going strong. We are in the thousands mark already. My car got me where I needed to be, I saw my mom and a couple of my sisters, nieces and nephews. Today I am going to hangout with my in-laws, which usually offers nearly as much material as visits with my own family.
If you are new here, welcome to Home Fires. Please see
She's Got The Look
for background on the following story.
I don't know if I should explain how insane they are or how much I love them. Mom, and my sisters Anita and Angie, made a holy show out of me and my new hair do. All of them said they like my hair better now. Angie said, "It's better than all that long shit." Thanks Sista. You guys might have said something a few decades ago.
My sisters worked on my hair for what seemed like hours. They piled makeup onto my face and told me it wouldn't kill me to wear some once in a while. As Anita dried and wrapped it in rollers to tame my newfound curly hair, she said I had too much fucking hair still. Our mother stood there directing the insanity while taking pictures. "Anita, do this. Angie, try that." She's a helpful one our mother.
I tried explaining to my darling sisters that my hair needed no more poof. Angie and Anita told me to shut up. Angie then stabbed me in the neck with the hair pick and Anita strangled me. Can you feel the love? It reminded me of the good old days when we all still lived at home.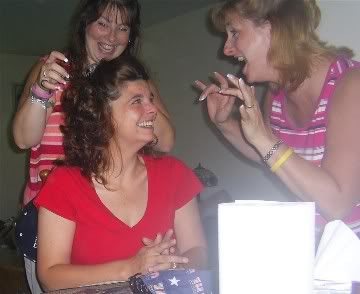 Here they claim my hair still was not big enough so they were "teasing" it. Both were saying, "Na-na-na-boo-boo" or something equally silly.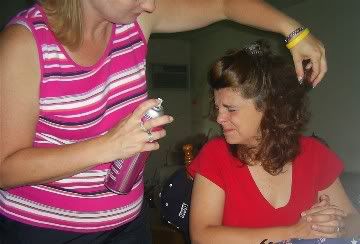 Anita working on destroying the ozone layer. Good God, how do women spray this crap in their hair every single day?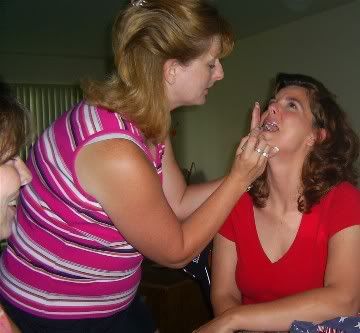 Before our mother snapped this gem, my eyes were burning from all of the makeup. Angie thought that was the funniest thing ever and began laughing with her asthmatic seal bark laugh. Her laugh is so contagious that I couldn't stop laughing either. Anita yelled at me because my tears were about to ruin her makeup job. She was holding me still by the chin as my tears melted the mascara, stinging my eyes even more.
Blush and lip gloss, two more things I never use being piled onto my face. The girls said to have a real Lois Lane look I had to wear all of that crap.
Here is one of the completed looks. This is what they call the Yuppie Mom look.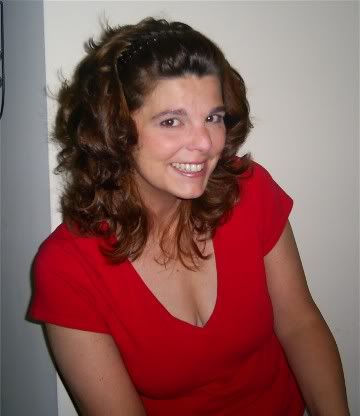 This is the easy headband hairdo. Even I can handle this one.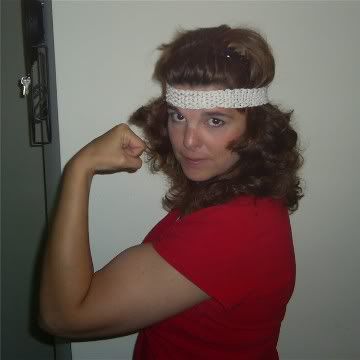 Let's get physical, is the look Angie was going for when she strapped this gay ass headband on me and told me to flex.
Here is the up-do. Looks like I am going to prom with this big hair. By the way, I wasn't high. My eyes were still tearing from laughing so hard and my lids were too heavy from all of the makeup to keep open properly. Or maybe I was high. I can't be sure.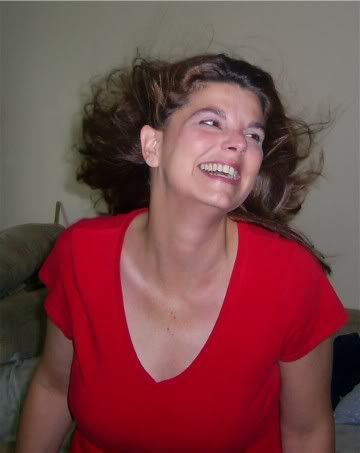 This is the combo look. A cross between Marilyn Monroe and Lois in a wind tunnel.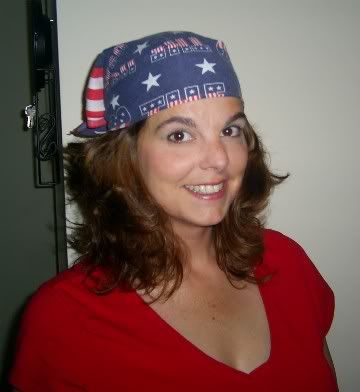 I always wear a do-rag on my head when I work in the yard. So here is the Rebel Redneck Mama look. The look I will likely sport the most.
I hope you enjoyed the photos as much as we enjoyed playing Barbie Head Lois. Happy Labor Day!
Thanks Mom, Anita and Angie. I love yous guys!