Good Morning Beautiful
Stirring in bed, blanket wrapped tightly around me like a burrito, face smashed deeply into my pillows to keep out the morning light.
"Good morning beautiful Mommy!"
What a sound to wake up to. I turned my head and saw my daughter holding a cup of coffee. She was smiling. She was already dressed. How did I sleep through that and holy crap, what time is it?
I jumped up to a seated position. I smiled back, wished her a good morning, thanked her for the coffee and ask how long she had been awake. My blurry eyes saw the clock. It read 12:00 in all of its flashiness.
"I don't know. All of the good clocks are flashing. I guess the power went out."
"Is your brother awake?"
"No. I tried waking him but he said it's a snow day. Is it Mom?"
Yesterday the snow came down relentlessly. It took me an hour to get to the kids' school and back. I saw two cars spun off into a ditch on my way there. By the time we were coming back, there were eight.
The 13-year-old know-it-all riding shotgun informed me I was driving too slowly. I told him to zip it. He insisted front wheel drive cars can take the treacherous roads. I pointed out a couple in a nearby ditch that couldn't. He told me what he would do if he were driving. I reminded him he wasn't. He began to speak again. I added, "You won't be driving. Ever. If you don't zip it."
Those are the times I think about animals eating their young. I like animals and I was feeling quite hungry. I calmly told the boy I was getting pissed. He finally shut up.
Somewhere along the journey home, I said, "If this doesn't let up, school might be closed tomorrow."
Biggest. Mistake. Ever.
Lane 2 stood there smiling at me. "Is it Mom? Is it a snow day?"
I finally dragged my weary bones out of bed, blanket wrapped around me like a cape and went to find a normal clock. It was 6:45 a.m. I pushed back the blinds only to be blinded by the reflection of light bouncing off of the snow, which was covering everything.
"Is it Mom?"
Her little face smiled so hopeful.
"I don't know. The snow finally stopped falling. The roads might be clear by now."
She put on the TV and the radio. She was going to find out. I woke Lane 1. He whined and told me to find out if school is in session before "bugging" him. I dragged my son out of his bed by his ankles. He flopped to the floor like a fish out of water, begging for me to give him five more minutes.
"Now son!"
With a heavy sigh, he headed toward the shower.
"I'm not getting any information here!" Lane 2 said disgusted. "How about calling the school?"
"There isn't anyone there yet sweetheart. We'll have to wait until 8 to call."
"I cannot believe there isn't a better system to pass along information. What is wrong with this picture?"
She was indignant as all hell. Cracked me up.
"Mommy? Can you just make the decision? We are your children. Certainly you wouldn't want us endangered. Besides, it is your prerogative to allow us to stay home."
Coffee splashed out of my nostrils. I suddenly realized why my daughter was being so adorable. She was trying to win me over so I would declare it a snow day. What a sneaky little shit!
I sent her outside to clean the snow off of the car, "just in case."
It's sad to admit this but I actually felt guilty and almost peer pressured into letting them stay home. I thought about it over coffee. My mind flashed with piles of homework Monday afternoon would offer. I saw snow on the floor, kids coming in and out freezing me to death, while invading my alone time. My future wasn't looking very bright. It was decided, as long as the school is open, they are going. All I had left to do was break the news to them.
In my mind I heard, "Good morning beautiful Mommy!"
Out of my mouth I heard myself say, "Hurry up guys! We're going to be late!"
---
Non-Meme Christmas Gift Giving Bonanza Continues!
If you are new to Home Fires and wondering what this is all about, this is my way to give my friends who live in my computer presents for Christmas. You can read more about it
here
. Feel free to join in the gift giving spirit.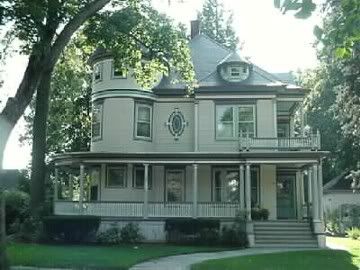 For
Inanna
I offer a home that needs no payments or repairs. Inside, there is a den with a writing desk and a special bead room for two of her favorite pastimes. The entryway has a trap door so she can, with the push of a button, get rid of certain someones who try to darken her doorway. Her home comes complete with staff. A cook, maid, gardener, all of whom are hot strappy men, I might add.
For her son Nate, I offer a clue for everyone who comes in contact with him. So he never feels less than wonderful, smart and brave. So no one ever can make him think he is less than the amazing little man that he is.
Many more Christmas gifts are coming soon to a blog near you!