Wish You Were Here
Over the next couple of weeks as all of us who celebrate commercialized Christmases go shopping, I want to play a game.
Brighton
gave me the idea. I bet she doesn't even know it yet. In one of her posts, she said, while she was Christmas shopping she saw items that immediately made her think of some of her blog friends.
Here is what I want you to do, while you are shopping, you are no doubt going to find stuff that will remind you of the friends you have living inside of your computers. You know how shopping is, you see stuff all of the time that makes you think, "If I had enough money, I would get one of those for so and so."
Our imaginary community is so tight that we know each other better than some of our real live fleshy friends know us or we them.
This is no meme crap either so don't give me any lip about playing! Here is what I want you to do. When you see an item that makes you think of a fellow blogger make a mental note. When you get home, type about the person and the gift and why you would get that for them. Money is no object and it's the thought that counts, so "shop" 'til ya drop.
Since the weeks before Christmas are so crazy and hectic, and many of us won't have time to blog, this will be a quick fix. You'll have the notes on your computer. Now all you have to do is do an image search of the gifts and post them all.
---
Today is Birthdays-R-Us. I have two nieces and a cousin celebrating. A birthday trifecta, if you will. The only pictures I have of my cousin Annette are really dorky ones, so I'll spare her the embarrassment because she really grew into a knockout. Today, I think she turns 37.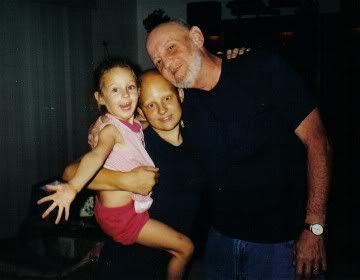 Here is Dee with her brother Darktails and my dad. Today she is 10. This picture was taken a few years ago when my parents went to Hawaii to visit my brother Mark and his family. Lucky dog was stationed there for a few years.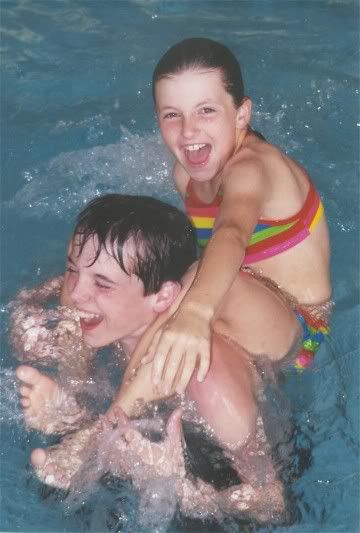 Here's Lane 1 with the other birthday girl, Nancy on his shoulders. The kids were playing chicken in the pool. She is 11 today. This photo was taken the day her brother
Dino-Mike, AKA E.T. Pooped in the jacuzzi
. Good times!
Happy birthday ladies! I love you bunches!