Walkin' In A Winter Wonderland
The Lanes are beginning to feel a lot like Christmas. Yes, I am aware of the date. It took a while to jump start things but this weekend sort of shoved us in the Christmas direction. Mr. Lane returned from his trip to California. We planned to get our Christmas tree Saturday. The kids' Christmas pageant was Sunday. Those two things in one weekend certainly could drum up our spirit.
The wind stung our cheeks, the mounds of snow froze our toes. We hiked for a mile and a half to find the perfect tree. Here's Mr. Lane and the kids. It was difficult to get them to smile. When I threatened to moon them, this was the result. I love that my naked ass scares my children.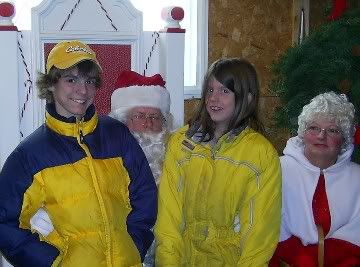 The kids thought they were too old and too cool to sit on Santa's lap. Mr. Lane and I pulled rank and said there will be no Christmas presents if they didn't comply. They hate us.
The rest of the photos, from the weekend were taken with my other camera. Once they are developed, I'll post a few. Like Kitty Kong for instance. Chip, you know, the miracle cat, well, it seems he has a thing for destroying small villages. Not even Baby Jesus can escape his wrath.
In other weekend news, Auntie Shorty is back in the hospital. She had to receive platelets again. If you don't donate blood or platelets, do it. It is the best way to help cancer patients, without costing you a dime. If you do donate, thank you.
She reads this blog and has been grateful for all of the well wishes in the past. She asked that I ask you guys "to do some voodoo or something to make this crap go away." You know what to do. If you pray, do voodoo, witchcraft, hovercraft, whatever, do it for Auntie Shorty.
---
Non-Meme Christmas Gift Giving Bonanza Continues!
If you are new to Home Fires and wondering what this is all about, this is my way to give my friends who live in my computer presents for Christmas. You can read more about it
here
. Feel free to join in the gift giving spirit.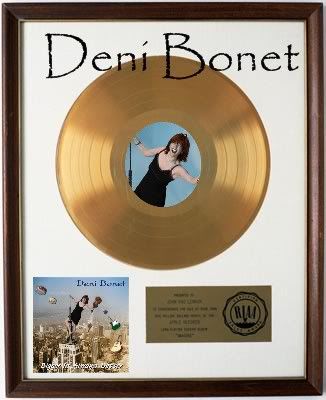 Deni, AKA
Last Girl on Earth
has performed with REM, Sarah McLachlan, Cyndi Lauper, Gravity Kills, Chris Whitley, Daniel Lanois and Robyn Hitchcock. This Christmas, I wish her gold albums. She has worked her ass off for many years helping others achieve their goals. I say this is Deni's year. Go visit her site, buy her album and listen to one of my favorite songs of hers,
Fuck It
.
Many more Christmas gifts are coming soon to a blog near you!
---
Susie
is also in the Christmas spirit. She has invited everyone to her blog for a Blog Cookie Exchange of sorts. Go visit her and share in the fun.