Benny And The Jets
Does anyone know what today is? It's exactly one month, one week and one day away from my birthday. Shop now, shop early, shop often!
Do you know why May 11th sticks out in my mind as such? Because of my cousin. Today is Benny's birthday. He is and always has reminded me that I am younger than him by one month, one week and one day. It is an ongoing joke between us, always has been.
Benny was my first friend, my cousin, the first person besides myself that I noticed to be left-handed and most importantly, he is my elder. He always told me to respect my elders. I always had to remind the little bugger that he was only my elder because he was a preemie, and in my book, that's cheating! He was supposed to be born the same month as me and days later. At least I came out fully cooked.
Benny's mom was not only my aunt and godmother, she was also my mom's best friend. I imagine being pregnant at the same time brought them closer together, which meant, Benny and I always got to see each other.
I remember the two of us running around playing cowboys and Indians with crayons for guns. We went horseback riding one time and my horse's name was Zeke, just like the boy in school who liked me. We laughed our asses off about that one. As our horses ran at top speed passing each other on the path, we both screamed at the top of our lungs, "This is what I love!" I found it funny that we shouted it in unison.
Classic rock, as it's now called, played loudly on a boom box during most of our preteen years. We also played keyboards together, only, neither of us learned the entire song to anything.
I don't know how he feels about having his photo posted on the internet, I didn't ask him for permission but I do have a couple of my favorites I'd like to share with you guys. Besides, what are the chances of him seeing this anyhow? (insert sinister giggle here)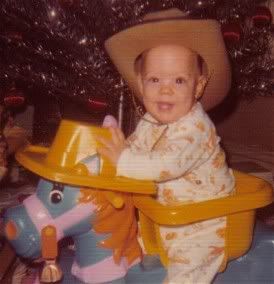 Benny at 8 months old. Giddyup little buckaroo!
(Don't you just want to pinch those cheeks?)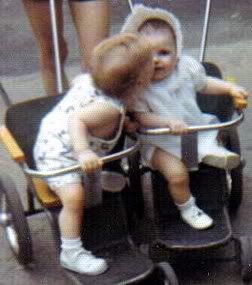 Benny kissing me. This was one of our many trips to Brookfield Zoo.

And lastly, but because I want this blog to be work friendly, here is a link rather than the actual picture of his naked ass getting out of the bathtub he and I shared one day. I didn't include the nudies of me from that day. I'm not
that
crazy.
http://i2.photobucket.com/albums/y23/no_newz/bennysbum.jpg
Happy birthday Benny! I love you!