Mad Dog
Two days at Home Fires devoted to the dog, weird. Most of you regulars are so used to the cat stories and an occasional bunny or opossum story, you may have thought you were reading the wrong blog. While I'm on a roll (over and play dead). I thought today would be a good day to share the story behind the angry Little Lois picture on my sidebar.
It all began the day I was born. No, I didn't come out angry but it was soon after I exited the womb (with the lousy view) my mother told my godmother that I looked like a bulldog. I was appalled too. Can you imagine giving birth and saying that baby is anything but beautiful? Well, y'all know how evil my mother is so it may not come as much of a shock to you. For me, however, I was a newborn with a complex as big as Texas. Not exactly a good way to start life.
My godmother (Cousin Benny's mom) was so pissed off at my mother for saying such a terrible thing. My mother didn't care and persisted, "Look at how fat she is. And checkout those jowls." The final straw for my godmother was when my mother bought a can of Alpo for me to really piss her off. My mother claims it was a joke.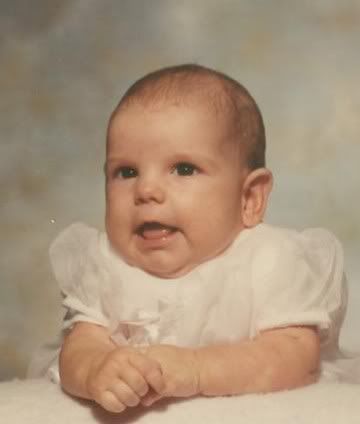 With such a negative start in life, you can imagine why I'd be a bit angry. By the time I was four months old, I learned that smiling a little might melt my mother's icy heart. All it got me was a leash.
But when Grandma was around, I was really happy. She thought I was cute and not at all bulldogish. She said something about how if my mother would drink, she'd think I was cute too. (Me front and center stealing the spotlight from Angie, who appears to be holding her crotch happily, Mary is behind her with the bows in her hair and Anita is getting a headlock from Grandpa I think.)
So when certain guests were around, I felt pretty, oh so pretty and all that stuff. But when those guests went away, and it was just us again, the anger would spill over.
That brings me to the picture of me being angry. See this picture of my dad and his daughters? Now you see my sister Lucy using me as an armrest? You'd be angry too. That is, unless you were hanging onto your crotch like Angie. I guess some things never change.
You folks have yourselves a doggone great weekend!