Little Bow Wow
Animal lovin' dorks that we are, watched the dog show last night. We caught a couple of the earlier rounds the night before but just had to tune in to see the finals. Dorks, I tell ya.
Anyhow, they showed this beagle that was mere inches from dragging his belly on the ground. A real low-rider. Lane 2 said, "Holy cow! That bagel's biscuits are going to trip him."
It took me a second to realize she meant beagle and balls. "That's pretty disgusting sweetheart. And he is a beagle not a bagel."
"I know Mom. And those aren't biscuits either."
She is growing up to be such a lovely lady.
We made fun of the whole show, from the way the handlers run like girls, to the way the judges feel up every single dog. My daughter also learned, the uglier the dog, the better chance it has to win.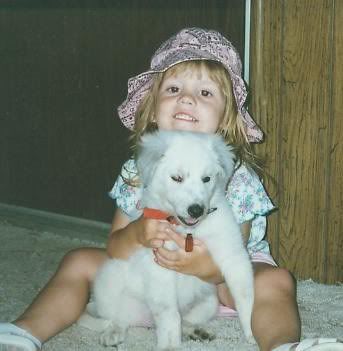 This is Lane 2 with our Australian Shepherd, Sydney. She was much too cute to win any dog show.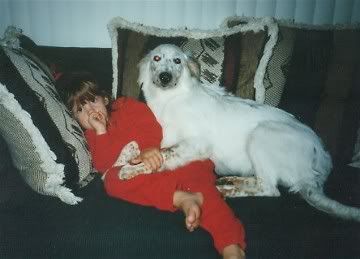 That is, until she grew up a little. Here is Lane 2 with Sydney a few months later. We were already madly in love with that dog, so it was okay that she wasn't cute anymore.
And finally, Lane 2 with Ginger my mom's dog. Again, much too cute to win a stupid dog show.
So tell me, are Lane 2 and I the only dorks in the world to watch the Westminster Kennel Club Dog Show?