Gonna Find Out Who's Naughty...
What has become of Lois Lane blogging on the weekend? Well, don't get used to it folks. Saturday was a special
Christmas tribute
. Today I want to honor some of my naughtiest, most favorite blogger friends.
My
Katey
, at the top of the naughty list, I bet she saw that coming. She gets a boy toy right off the bat. I am giving her one who isn't just fun to look at. This guy is going to be smart but not nerdy, wealthy but not snobby, sensitive but not a mama's boy and funny enough to detect sarcasm. This hunk o' meat doesn't come with the baggage of psychotic ex-girlfriends or any little ankle biters and he doesn't live in his parent's basement. Oh, and would you look at that? He has a nipple ring. How cute! (Are those mistletoe boxers he's wearing?)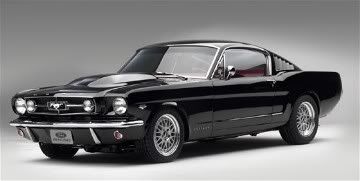 Bad boy with a heart of gold, sounds like an oxymoron to me, but
Seven
is just that. For his Christmas gift, I give the car above and a multimillion dollar web design business and enough hot little worker bees to take care of things so he can work on rebuilding his family and friends homes in New Orleans. My next gift is that he never be concerned about how his new liver is doing. Consider it stamped Grade A.
Jade
, see she is one of those sweet faced, kind-hearted women who given the chance could be all sorts of naughty. For her internal naughtiness, I offer Bionic Woman parts. Not those parts you sick freak. Jade has been in lots of pain over the last year that I've "known" her. So I want to give her the gift of pain free bionic appendages.
He isn't around often but that doesn't mean he is forgotten.
Trashman
is the pimp of the net. Since he already has a beautiful lady at home, I can't offer up an entourage of bitches and hos for him. Instead for him and his best buddy Jack, I offer a talk show. It's like The View if it were run by two outlaws. Of course there wouldn't be any annoying broads yappin' a mile a minute either.
Where there is Trashman, there is always
Jeanette
close behind. Even though she is a very happily married woman, she remains Trashman's stalker. For Jeanette I give independent wealth. Sure that may seem like a copout but this way, she won't have to worry about getting a new job. She won't have to worry about what type of destruction the cats are putting her new home through while she is away. She will be able to blog her day away. For her husband, I give a gasmask. He knows why.
El Sid
, missing in action for far too long. I wish her oodles of quizzes to toss out at will. I give her a computer that never ever goes down. I offer her a fancy, maintenance-free building to live in and with a handyman at her beck and call. I also give her a little play time with Johnny Depp.
I really want Jesse to have properly working anal glands because if
Julie
blogs about that expressing thing again, I'm going to barf. So that is my first Christmas wish for my little Irish princess. Breathe a sigh of relief because I could have included a picture. Next I offer up a gig as the lead reporter for Rolling Stone Magazine. She will be subjected to all of the free rock concerts her heart can stand, starting with Queen and Def Leppard.
I'm pretty sure my buddy
Dante
has a little naughty streak in him as well. This Christmas I give him a sexy vixen to bring out his wild side. She won't be so over the top that he couldn't take her to meet the family of course. Did I mention this vixen owns a music store?
Many more made the naughty list and they'll be coming soon to a blog near you.
---
For all of you bah-hum-buggers out there whose fancy wasn't tickled by the spirit of giving, go take the
ridiculous quiz
I made up for my buddy
Ivy
. She wanted to know if there was a way to calculate her value in cigarettes if she were in prison. She only scored 20, which means she needs to be on her best behavior.
Here's the scoring key:
80 to 100 you're worth 10 cartons
50 to 70 you're worth 4 cartons
30 to 40 you're worth 1 carton
0 to 20 Bend over, this won't hurt a bit