See You Next Year
Remember last week when I said I was thankful my kids are growing into the mature, selfless adults? Here's proof:
Two days before we left for Missouri, these mature little creatures were surfing the net together and found a song about boogers. Obviously they thought it was hysterical. Maybe mature was a tiny stretch.
Lane 2 got a haircut for Christmas. Even though Lane 1 needed one more, he didn't want one. He said he is trying to grow out his 'fro. Again, very mature, right?!
We made the trip safe and sound. Mr. Lane's dad and step-mom were the hosts with the most. I think we all gained 10 pounds. And, incase you were wondering, yes, our very commercialized Christmas was spared.
Do you remember the story about Bobby? He was a firefighter in New York who died in the attack on the World Trade Centers. I wrote about him on the 5th anniversary. Anyhow, as mentioned in that post, the tribute I wrote about him was published in a book. Because of some legal hang-ups, my publisher is unable to make the book available for sale. It can be used as a marketing tool for the company, but that's it. It was a blow to my writer's ego. I had 17 stories published in that book and really wanted to see it offered for sale. But, shit happens.
For Christmas, I sent the only copy I had of the book to Bobby's mother, Rose. Her son's handsome face made the cover. It took several painful hours for her to share his story with me. Reliving that nightmare was so hard for her and giving her the book was the least I could do.
When Rose received the book, she called me. She was so happy and said what turned out to be the best Christmas present I've ever had. "Lois, I feel like you gave me back a part of my son, and my life. There are no words to tell you how much this means to me. This is the best Christmas present I've ever been given."
Crying and laughing we talked for more than an hour. When I got off of the phone, I felt this urgency to call the publisher. At first I felt the feeling was because I kind of wanted a copy of that book for my own mom. But when he answered, I started blabbing about Rose. I told him how much that story about her son meant to her and said, "There is a huge need for more." I came up with an idea to compile a series of books, Heroes Worth Remembering, beginning with firefighters. If this one story brought this much joy to this one woman, imagine if there was a whole book honoring the work they all do.
I don't know how long we spoke but he was digging the idea. By the next day he had written a proposal to take to his partners that he wanted me to review. Me. Sure I write. And occasionally I have a good idea. But review a proposal? My mouth said, "Sure, e-mail it to me."
After a handful of e-mails back and forth, and a day to wait it out, it became official. "Firefighters Worth Remembering" is a go. Bobby's story is going to be republished in it because he truly was the inspiration for the idea. When I told his mom, she was thrilled. She offered to help us get the word out and help us get in touch with other parents like herself.
More work + more money ÷ commercialized Christmas = game on!
Mr. Lane and I decided to put the hit and run smashed mobile off for a couple of weeks. Knowing the money fairy will be coming soon, we finally got excited about Christmas. Did I tell you we didn't do any of our traditions? Not one! No tree! We didn't go out to the forest for a carriage ride, hike in the snow, see Santa or anything. Our spirit, like my car, was smashed to smithereens. But now… well, someone get me to the mall, STAT!
I fucking hate the mall, but I was cozying up to the idea, "But wait," said Mr. Lane. "There is a huge outlet mall in Osage Beach," which is only 10 minutes from his dad's house! Oh joy of joys! We left for Missouri with smiles upon our faces.
After the hellos, we've missed yous, the you look greats, and other pleasantries, we set out shopping. It was the eve of the Eve. Finally the Lane spirit was loud and proud and fully energized.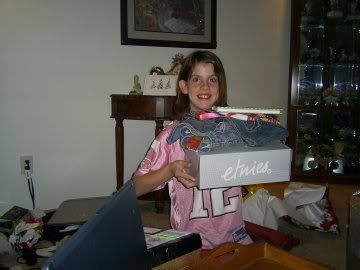 And this was the end result. Who could ask for anything more?
But wait, there was more, because we had fun! Crazy concept, huh?!
Mr. Lane and his dad bonded while working on some repairs in their new house. A tree used to come up through the deck, but they fixed the hole and cut the tree down. And… well, I don't know what else they did but you can take a guess:
Ever ask yourself, "How many guys does it take to change a light bulb in a fake fireplace?"
I asked Mr. Owl, and he said thuurreee!
Waking up to the view was definitely a treat. Their enclosed porch looks over the lake. Eagles soar effortlessly through the air (but are too quick to be captured on my digital). It's really breathtaking.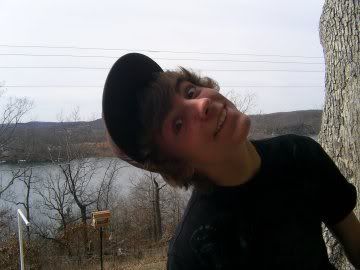 Until you get a teenager who thinks sticking his big ol' melon in front of the camera is a good idea.
And not to be outdone by a smelly brother, Lane 2 did the same: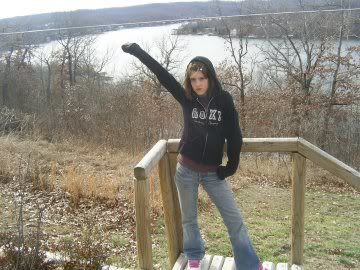 Strike a pose, vogue. Cute haircut, right? I bet you didn't even know Santa's elves could cut hair.
Although last year, I was truly blessed with the finest of all stationary bikes, this year, Mr. Lane bought me jewelry. A gold chain to be precise. My mom gave me a dream catcher medallion a few months ago. Somehow, I managed to break the chain. I've been wanting to get it fixed or buy a replacement, but I never seem to be able to talk myself into spending money on that type of thing.
Did I mention the medallion is silver, which I prefer to gold? Did I mention the new chain is gold, as in yellow gold. Can you say tacky clashing jewelry? At least he tried, right?!
To make up for his tiny mistake, he went to the store and bought all of the stuff to make his world-famous cookies.
There just ain't nothin' sexier than a man cooking. Well… maybe one doing dishes or scrubbing the floor.
I hope all of your merries were happy and your happies are merry. See you next year!